JAMNOLA is New Orleans' hottest pop-up attraction celebrating all things NOLA.
A gallery experience unlike any other is taking New Orleans by storm. A self-proclaimed 'cultural funhouse', this artsy museum will teach you everything you need to know about the city. Taking staples from New Orleans' culture and turning them into incredible photo opportunities, or interactive exhibitions.
JAMNOLA takes audiences of all ages on a topsy-turvy, and totally trippy stroll through the cultural gems that make the Crescent City so special. With an immersive 12-rooms dedicated to New Orleans, celebrating the iconic art, music, food and theatrics outside its walls.
From Mardi Gras to crawfish, you'll get a real taste of New Orleans at JAMNOLA. The exhibits are gorgeously curated by local artists. There are even seasonal and rotating exhibitions for holidays like Carnival, Black excellence or Christmas.
Their selfie stations and hands-on experiences help fulfil the museums mission. Which is to help offset the negativity that exists in the world around us by investing in New Orleans' cultural community, to create more opportunities for Joy and prosperity through art and music.
JAMNOLA is open Wednesday through Sunday, but it's always best to check as days and times vary. Located at 2832 Royal St, New Orleans in the Marigny neighborhood. The museum is only a 5 minute ride share or 15 minute walk from the stunning French Quarter.
Admission for children is $15, and it's $21.25 for adults. The experience takes 60 minutes to walk through in its entirety. It's wheelchair and stroller friendly, making it the perfect fun experience for everyone in the family!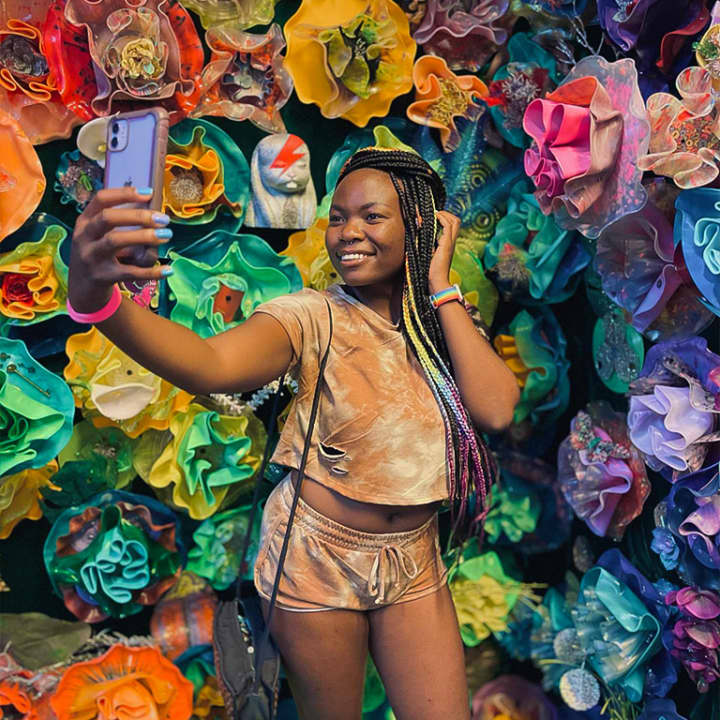 JAMNOLA: Immersive Pop-Up Celebrating Art, Music, Food & Theatrics
Featured Image: JAMNOLA
---