Fall in love with the Big Easy this Valentine's Day!
We all know that the best way into someone's heart is through the stomach… And the year's most romantic day is just around the corner. Go out to wine and dine with that special person this Valentine's Day. We've got the best places and events that will make you fall in love!
New Orleans' activities to love this Valentine's Day 2022
Virgin Hotels New Orleans
While everyone gears up to celebrate Valentine's Day, Virgin Hotels New Orleans wants to take a moment and celebrate YOU! The weekend before Valentine's Day, Virgin Hotels New Orleans will host Krewe of You, a fun Valentine's Day photo installation honoring YOU. Stop by the Shag Room located on the first floor of the hotel and grab a photo with a heart candy installation starting Friday, February 11. Bring your partner, galentine, or furry friend and get your photo taken!
On Sunday, February 13, find the perfect V-Day gift for your sweetie at the special Valentine's Day Market taking place at Commons Club and Funny Library Coffee Shop from Noon-4PM. Local vendors include Sorellas NOLA; FAIT | NOLA; Flour Tin Macaroons; and Lucy Boone Ice Cream and others.
Couples looking to step out for dinner can celebrate love at Commons Club on Monday, February 14, where Executive Chef Alex Harrell will offer Valentine's Day specials such as smoked beets – pickled strawberries, pecan gremolata; baked Gulf oysters – roasted garlic-herb butter, cornbread crumbs; seared scallops – celery root risotto, grapefruit, caramelized fennel; and pineapple upside-down cake. Spirit Guide Christy Bradley will be featuring a very special Raspberry Truffle Martini served up in a cocoa rimmed glass with Luxardo cherry garnish. Valentine's Day Dinner will be served from 4 PM—10 PM.
Tujague's Restaurant
This Valentine's Day guests can enjoy Tujague's a la carte Creole delights from Executive Chef Gus Martin, along with an array of specialty Valentine's Day desserts from recently-appointed Pastry Chef Karen Anderson. Decadent desserts include crème brulee, bread pudding, and a decadent chocolate molten cake topped with a chocolate-covered strawberry and seasonal fruit coulis. Valentine's Day Dinner will be served Monday, February 14 from 5PM-9PM. Indoor and outdoor seating available.
Mister Mao
Skip the romance and rose petals this Valentine's Day at Mister Mao, the tropical roadhouse restaurant offering inauthentic, globally-inspired cuisine. Instead, diners are encouraged to indulge in fried chicken and champagne, as well as Chef/Owner Sophina Uong's decadent three-course prixe fixe menu for two for $125 (not including tax + gratuity). The menu includes family-style portions of Korean mandu dumplings, hot fried chicken & japchae, and chef's selection of chocolate bon bon's along with a bottle of Tribaut Schloesser French Champagne to keep it classy.
The Bower
The Bower – the culinary darling of Latter Hospitality located in New Orleans' Lower Garden District – is inviting couples to celebrate Valentine's Day with specialty desserts and cocktails such as Pastry Chef Graham Wolfe's Flourless Chocolate Cake with candied rose petals; and the Rums & Roses made with rum, rhubarb liqueur, grapefruit juice, and soda. For dinner, guests can enjoy dishes from the restaurant's signature a la carte menu. The restaurant will open from 4PM-9PM on Monday, February 14. Indoor and outdoor seating available.
Jack Rose
Celebrate Galentine's Day and Valentine's Day at Jack Rose, the crowned jewel of the Pontchartrain Hotel. On Sunday, February 13 the lively eatery will be offering a festive Galentine's Day Brunch from 11AM-2PM. The three-course prix-fixe features delectable dishes such as baked oysters with lemon, horseradish, thyme; glitter chicken and waffles with maple cane syrup; scallop carbonara with saffron orecchiette, lardons; and crawfish frittata with peas, lemon. Desserts include the famous Mile High Pie and chocolate tart.
On Monday, February 14 diners can enjoy a special Valentine's Day Dinner curated by Chef/Owner Brian Landry. The three-course prix-fixe features dishes such as royal red shrimp and fusilli with red and green pesto, basil oil; pork belly with white beans, fennel, turnips, salsa verde; petite filet with parsnip puree, mushroom butter; grouper cioppino with scallops, oysters, calamari; and lamb roulade with white beans, sumac yogurt.
Toups' Meatery
This Valentine's Day, Toups' Meatery, the contemporary Cajun eatery located in Mid-City, is offering festive specials certain to impress your Valentine. In addition to Chef Isaac Toups' signature menu, he will be serving up big, juicy Platinum Wagyu steaks and sea scallops. Guests can complement their meal with one of Meatery's creative cocktails such as Spirit Guide #2 – sumac infused tequila, cacao, damiana; Duck, Duck, Blues – duck fat washed pisco, blueberry and jalapeno shrub; and Kali Macho – Garnaxta wine, house cola, spicy Moroccan bitters. The restaurant is open for Valentine's Dinner on Monday, February 14 from 5PM-10PM.
City Park Exploration Game
Explore the history and beauty of New Orleans City Park with your bae or galentine. This unique experience will take you about 1 hour and 30 minutes to complete and it'll take you through the magical park discovering an 800-year-old oak, sculptures, art, and more.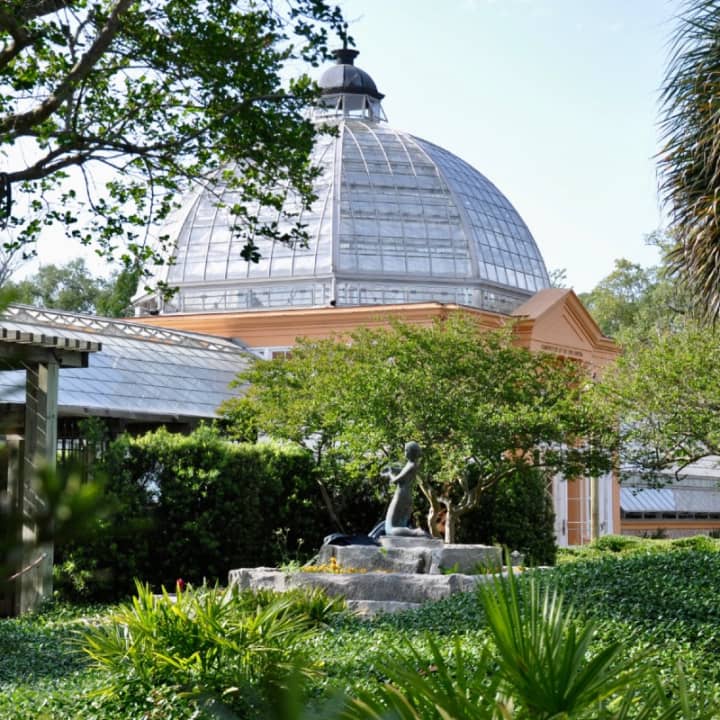 New Orleans: City Park Exploration Game
Featured image by Difotolife from Pixabay.
---